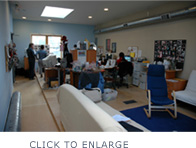 821 Upshur Street NW, DC – Domku
Restaurant & Different Avenues -
commercial landlord
821 Upshur Street is a unique commercial space. This non-descript, 20-plus foot wide, one-story storefront is actually a 4,800 square foot building with a lot-filling footprint, second floor office, and a 1,600 square foot finished basement. Recognizing this as a good structure with a unique oversized space that could never be built today, the Petworth Partnership was formed to make acquisition of 821 Upshur possible. Through years of creative financing and intense work on the part of our resident architect Brie Husted, a revitalized commercial building was reborn.
Husted Design acted as the site architect, project manager, and general contractor for all aspects of the Upshur Street rehabilitation. Lynn Yaudes created the business organization and managed all investor relations. n12development provided both project capital and the strategic planning necessary to complete the build-out. Today, 821 Upshur Street is both an improved office space for a non-profit organization working with troubled teens and Domku Café, an eatery serving the neighborhood and diners looking for a destination, sit-down experience – one of the few such establishments in the Petworth area.