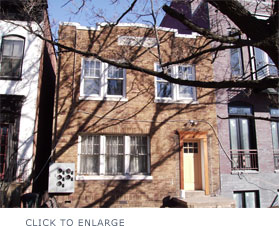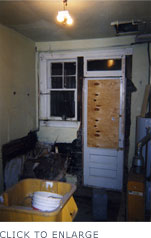 1625 12th Street NW, DC - four apartment unit dwellings – residential landlord
In 1999, n12development purchased this four-unit, 1920's, two-story apartment building, which was in less-than-ideal condition. One of the four units was completely unlivable; the remaining three were poorly maintained and outfitted. The empty unit was refitted with a brand new kitchen and new flooring, and all mechanical systems were reworked and serviced. All original yellow pine hardwood floors were reclaimed, sanded, and retreated. The bathroom was resurrected with new tile surfaces throughout. The original claw-foot tub was restored and reinstalled. Over the years, as residents from these units have moved on, each of the remaining apartments has been similarly renovated, including layout restructuring to maximize living space and sunlight.
n12development has striven to make these units available to the people working in the creative and service industry demographic that has long been a foundation of the renaissance of the Logan Circle/Greater 14th Street corridor.